Enjoy our tranquil meditation room that calms the mind while our spa treatments, including sauna and Vichy shower, invigorate your body.  We offer competitive prices and a full range of spa services including massage, hydrotherapy and skin care.  Our staff of therapists are professionally trained and certified in the latest massage techniques and use top of the line products, such as Pevonia and AgeAway by AmeriSciences.

Hours
Mon – Fri     11:00am – 7:30pm
Saturday     10:30am – 5:00pm
Sunday – Closed
Early appointments can be booked in advance
~~~~~
Call us at 281-464-8322
---
Order Instant Gift Certificates
Design your gift certificate, preview it, then send or print it immediately.
It's fast and easy!

Gift Certificates are non-refundable and may not be redeemed for cash
---
Ameri
Sciences
Nutraceuticals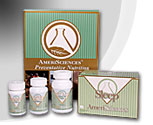 Serene Wellness Spa also offers our clients nutritional supplements. AmeriSciences has products that specifically target all of your nutritional needs to allow for a longer and healthier life.


learn more about AmeriSciences products
Client Reviews
A Massage by Eugenia
by Carolyn Friend

A massage by Eugenia, is like being touched by an angel and being transported on soft fluffy clouds to a place as near to heaven as one can get on earth. I truly recommend that if you have not tried her healing touch yet, do so as soon as possible and start feeling better than you have since being a baby in arms.

read more client reviews
TEAM MEMBERS WANTED
Devoted Licensed Therapists
Dedicated Nail Technician
Please call 281.464.8322 or send email to
spaserene@ hotmail.com
Best massage in town
by Bosam at Citysearch

I've been coming here for a couple of years, the massages are excellent and every time I leave I feel like I'm floating in the clouds. The staff is friendly and always willing to make you feel great. I highly recommend you come and get a massage.

read more client reviews
Not sure what to expect during a
Massage or Bodywork Session
read our Massage FAQ
CALL 281.464.8322
TO BOOK AN APPOINTMENT
OR GET MORE INFORMATION

Spa Services
... Swedish Massage | Deep Tissue Massage | Hot Stone Therapy | Reflexology | Facials | Waxing | Hydrotherapy | Ear Candling | Sauna | Vichy Shower |
more details
Our Most Requested Services
Swedish Massage is the most common form of massage. It is suggested…
Deep Tissue Massage is indicated when a client has been experiencing muscle…
Facials are procedures involving a variety of skin treatments, including: steam, exfoliation,…