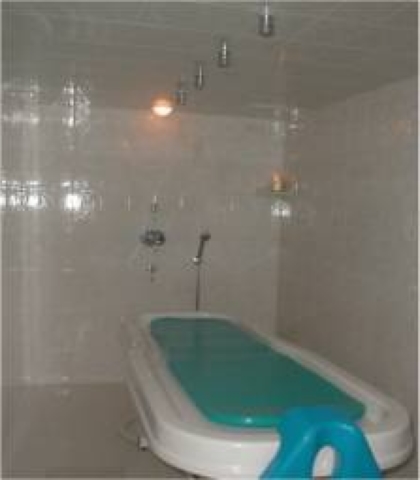 Aromatherapy Salt Glow – An invigorating exfoliating therapy using sea salt mixed with essential oils to nourish and re-mineralize the skin. A Vichy shower follows the treatment and the session is completed with an application of an arboreal moisturizing lotion.
Dead Sea Mud Wrap – A mud rich in salt and minerals is applied to the body and then wrapped in a thermal blanket. The session ends with a warm shower and an application of an arboreal moisturizing lotion. This treatment helps to relieve pain of inflamed joints and morning stiffness. The silicates it contains cleans and tightens pores.
Swedish Miracle Wrap – A mud mixture is applied to the body and then wrapped in three layers. It encourages inch loss and promotes a more contoured silhouette (up to 6-20 inches lost per treatment)
Parafango Wrap – A mixture of paraffin and dehydrated mud is applied and then wrapped. It detoxifies, encourages inch loss and helps to reduce the appearance of cellulite. Immediate results are visible.
Neroli Body Polish – Creamy, granular Neroli Body Scrub is applied all over the body to gently exfoliate. The scrub is then removed and a moisture rich lotion is massaged on the body. It finishes with a skin spritzer. This treatment tones, moisturizes and promotes circulation.
---
CALL 281.464.8322
TO BOOK AN APPOINTMENT
OR GET MORE INFORMATION ABOUT SERVICES & SPECIALS
Cancellation Policy…To better serve our clients, we require 6-hour notice for cancellation of appointments or there is a 50% charge per service on your next visit.
Clients having 2 or more "no shows" must secure their appointment with a credit card and will be charged 50% of the service if they miss their appointment without proper cancellation. A client is considered a "no show" if they have arrived more than 15 minutes after the time of their appointment.
Gift Certificates are non-refundable and may not be redeemed for cash.